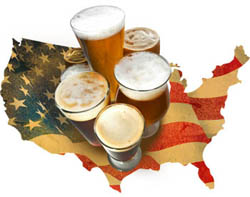 Welcome to the start of another great American Craft Beer Week! Unfortunately, it seems Connecticut is a bit light on the offerings this year – the Brewery Event calendar shows just one entry for the Constitution State – Willimantic Brewing Company's tapping of their Dry Hopped 2010 Cask Barleywine on Wednesday, May 19th 2010 (7:00 PM). Willimantic will also be brewing up a batch of their Working Man's Wheat in honor of ACBW.
All hope is not lost, however – we also have the 16th Annual Connecticut Craft Brewers' Festival in Naugatuck on May 22nd, 2010. Check out my Examiner article on the festival for all the pertinent details. Unfortunately, I will be out of the state that weekend, but you should try and attend if you can – they have a great lineup of breweries and it should be a great time.
I've reached out to a few of the state's brewpubs and breweries to see if they have anything special planned – I'll be sure to post any details when I receive them. In the meantime, if you know of any other Connecticut beer happenings this week, drop me a line!
Today, I wrote an Examiner article on ACBW. I'll be profiling a different craft beer each day of the week, and today's was Harpoon's UFO White. I really enjoy Harpoon's beers, and this take on a Belgian Witbier is no exception. Want to recommend a beer for me to try during the rest of the week? Drop me a comment!
Also, don't forget to sign your Declaration of Beer Independence! This week is a great time to talk up our national microbrews and support your local brewers!