A stormy night and $4.35/gallon gas prices could not keep me from traveling deep into Red Sox territory, almost to the Connecticut/Massachusetts border – yes, I was able to get out to Granby, CT on Saturday to visit The Cambridge House brewpub.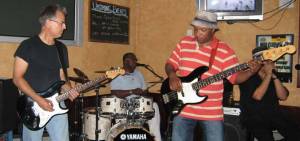 After the long drive, we were thirsty and hungry when we arrived at the brewpub around 8:45PM. The brewpub is on a sparsely populated section of Salmon Brook Street. Driving up the street looking for it, my first thought was, "They put a brewpub out here??" A minute later we saw the place, easily identified by the packed parking lot.
The building itself was attractive – it looked like a large house someone had renovated into a pub, with large sliding glass doors facing the road and framing the brewery equipment. After parking, we walked over to the glass doors to take a look inside. They must've just finished a brew session, since there were six large garbage cans filled with spent grain sitting outside, and the sliding doors were open, presumably to cool the room off. I narrowly resisted the urge to hop inside and start messing around, and we entered through the more conventional side entrance.
Once inside, we found ourselves in a small vestibule with restrooms and a counter displaying various Cambridge House merchandise for sale. After being greeted by a hostess, we were seated in the lounge area, near the bar (there is also a separate dining room adjacent to the lounge). The lounge was standard pub-style, consisting of a large central bar surrounded by tables, with large plasma screens scattered about showing the Yankees and Red Sox games and smaller screens showing softball and the hockey playoffs (which no one on the East Coast cares about at all). There was also a stage in one corner of the room, and we learned there is live music every Friday and Saturday night.
We were seated at a small table and our night looked like it was taking a turn for the worse. Directly behind us, there was a table with a guy who had the loudest speaking voice I've ever heard. We were assaulted with every detail of his inane conversation until we couldn't take it anymore (approximately two minutes). If you were the guy talking about the girl he broke up with three years ago, learn to use your inside voice. And get over her already. It's been three years, for crying out loud!
The waitress had already taken our drink orders (two beer samplers), but she moved us to a new table without blinking an eye. Kudos to the staff, who were friendly, accommodating, and as fast as could be expected in a packed bar on a weekend night. We quickly got down to the business at hand – eating and drinking.
We ordered the four-cheese spinach and artichoke dip, which was served hot with chips and bread wedges and was the perfect start to the meal. I ordered the pulled-pork sandwich and my girlfriend got the Cobb salad. Both arrived at the table quickly and were above-average for pub fare. While the food didn't blow me away, it was definitely tasty – a solid showing. There's nothing worse than a brewpub that serves awful food. Next time back, I plan to venture out on the menu a bit, perhaps trying the lobster mac and cheese.
Now, the beers. We each ordered the sampler, which consisted of small glasses of their Copper Hill Kölsch, Cambridge House IPA, Newgate Brown Ale, Old Mill Pond ESB, Three Steve Stout, and English Summer Pale Ale.
The Kölsch was great at first taste, but there was a faint grapefruit flavor which isn't appropriate for the style. I wasn't sure if it was from some kind of contamination issue or a hop substitution, but it threw off the beer slightly. It was still enjoyable and definitely drinkable, but that grapefruit taste disappointed me somewhat.
The IPA was good, and here was the grapefruit taste again. However, in this beer it was obviously from the hops (probably Cascade) and acceptable for the style. No off flavors to note, and I thought it was a decent beer – maybe a bit light on the hop punch to satisfy some hopheads out there. Call it an East Coast IPA, not all crazy like those West Coast ones…
The brown ale, ESB, and summer pale ale were OK – they were all decent beers, in style, but nothing I would rave about. My girlfriend noticed a slight grapefruit taste in all of them – acceptable in the pale ale, but not the brown ale and ESB. I can't say I really picked up on that, but by this point we were eating our entrees and I wasn't paying as much attention as I should have. Let's be fair, I need to go back and drink some pints and really do a proper tasting on these three. I didn't pick up on any fatal flaws and I'll be back to give them the attention they deserve.
Now, the Three Steve Stout is the beer I liked the most. I think this was a wonderful example of a stout. It had notes of chocolate and coffee and was perfectly balanced between creamy maltiness and toasty bitterness. It wasn't thick and chewy like some stouts – it was medium-bodied, with great drinkability and just enough substance to remind you that it was indeed a stout you were tipping back. I wanted to pick up a growler of this, but Connecticut's ridiculous liquor laws prohibit any take-away beer sales after 9:00PM.
We finished our night off with a pint each of the Kölsch, so we could give it another taste. Yup, the grapefruit was still there, and I'm wondering if they used Cascade hops in the beer (I would think German Tettnanger would be the way to go here – this is a very strict style without a lot of room for improvisation). As we finished our pints, we got to enjoy the sounds of Ozzie Miller and the Marion Street Blues Band (see pic above) – they rocked the house and put on a great show! If you like blues, be sure to check them out. We hung out until their first set was done, paid our check, bought a pint glass for our collection, and hit the road.
In summary, The Cambridge House definitely warrants a return visit, and I say that being over an hour away. I really wish it was closer, since I think it would be a cool place to hang out for lunch and a few pints. I feel like you can't truly review a brewpub in just one visit (unless they are horrible), so expect a follow-up in the future. The food was good and I'd like to check out the rest of their offerings. The beers were good and I'd like to go back and try a few pints of each – there were just a few small flaws which prevented a higher score. The entertainment and staff were great, and seeing a band provides the extra incentive to get us back on the road one of these Saturday nights.
Beer: B-
Food: B+
Staff: A
Atmosphere: A
Overall: B