Just when I thought I had my system dialed in… When the last brew session had gone well and I'd hit all my numbers… When I could do no wrong…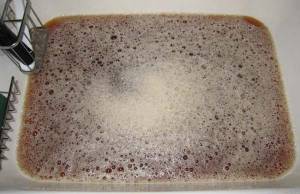 Yes, that's five gallons of Engine 97 being poured down the kitchen sink. I kegged it on Saturday and noticed an interesting aroma – it was a weird fruity scent, not all that unpleasant, but definitely abnormal for this beer.
I tapped the keg for a sample tonight and the beer was just bad. I can't even properly describe the off flavors – just a sweetish fruity aroma and a nasty taste… too sweet and too bitter all at the same time. It tasted nothing like Engine 97 – I've brewed this recipe quite a few times, and it wasn't even close. I suspect some kind of infection, but where did I pick it up? I noticed the aroma out of the fermentor, so at least it isn't my kegging gear.
I suspect it was either during cooling (I was rushing because the brew session ran late – perhaps some unsanitary water found its way into the cool wort?) or when I pitched the yeast (I reused yeast slurry from the last batch – it could've been contaminated anytime between harvesting and pitching into this batch).
Well, tossing a batch sucks, but it happens to the best of us. Normally, I would agree with those who say never to toss a batch, since age can do wonders for a funky beer. However, this one was definitely beyond salvage. This is only the third batch I've tossed in my homebrewing career – usually I can drink my mistakes, but sometimes you have to draw the line and cut your losses.
Oh, well. On the bright side, I was supposed to brew today and had to postpone until this weekend. I was upset at the time, but it was a blessing in disguise – if I'd brewed without knowing this batch was infected, I might've made the same mistake again. At least now I can break down and clean the heck out of my equipment, as well as take a closer look at my procedures and sanitation practices. This batch might've just been a one-time fluke, but I have to make sure it doesn't happen again.