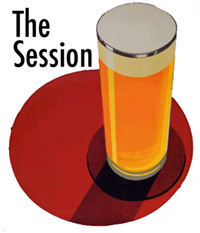 The Session is a monthly event for the beer blogging community which was started by Stan Hieronymus at Appellation Beer. On the first Friday of each month, all participating bloggers write about a predetermined topic. Each month a different blog is chosen to host The Session, choose the topic, and post a roundup of all the responses received. For more info on The Session, check out the Brookston Beer Bulletin's nice archive page.
This month, The Session is being hosted right here. Keep reading for this month's roundup post.
It's Sunday night, and I've spent the weekend reading through all the great responses to this month's Session. It seems like everyone related to the topic and had a good time with it – there were some very creative approaches out there!
Before I get down to business, I just want to thank everyone – thanks for giving me the opportunity to host, and thanks for participating and sharing all these great posts. If you have a late post, I missed your post, or I spelled your name wrong or something, please let me know and I'll get it fixed.
Let's kick it off with Beckel @ Legal Beer, who explored the history of the Helles style while sampling Surly Brewing's Surly Hell. He mentions he isn't really a lager fan, so I give him credit for stepping out of his comfort zone. Oh yea, he traced the first shipment of Spaten Helles from Munich to Hamburg, so we'll throw in a few Bavaria points.
Speaking of Bavaria points, I don't think anyone is going to top Jay over at Brookston Beer Bulletin. He writes about a press junket trip he took to Bavaria in 2007 where he visited several small and relatively unknown (in America) breweries. He also posted an amazing array of photos from the trip, which have made me realize its been two very long years since I've been to Germany. Hmm, wonder how I can get on one of those junket trips?
Bryon at Home Brew Beer spins tales of lost beer and victorious yodeling at Epcot's German Biergarten and an authentic German restaurant right here in CT. Thanks for the tip, I'll be sure to check it out!
Flossmoor Station gives us a collection of German beer photos from the archives.
Boak over at Boak and Bailey's Beer Blog went on a virtual tour of Germany through beer at London's Zeitgeist, a bar for German ex-pats.
Dan and Ethan over at Beer-O-Vision have posted a very interesting video comparison of Schneider-Brooklyner and Brooklyner-Schneider Hopfen Weiss. These two beers are the result of a collaroration between Brooklyn Brewery's Garrett Oliver and Schneider Brauerie's Hans-Peter Drexler.
Shawn over at Beer Philosopher also found the Schneider-Brooklyner Hopfen Weiss worthy of blogging about. Talk about a symbol of German-American beer cultures intertwining! He writes a terrific review of the beer – I am definitely going to have to get my hands on this one.
Lew Bryson at Seen Through a Glass does an excellent job of comparing different drinking cultures around the world and putting to paper what makes the German beer culture and experience so unique. Great read.
Tom at Yours for Good Fermentables has advice we should all heed when reviewing beers: "Taste first; offer (gentle) criticism later." His Session post speaks of the misunderstood kellerbier – why can't lagers and casks go hand-in-hand? This post made me thirsty.
Josh over at Hump's Brewing found reason to get back to The Session after a long absence, and offers a great history lesson on some of the many, many German beer styles out there. He also has a rauchbier in the works, and I'd love to try some when it is done!
Rob at Pfiff! exposes the seedy underworld of German brewing and finds comfort in the fact that there's still room in Germany for a brown-bagger pils… and, it's not that bad!
Let's head over to Adam at A Good Beer Blog, who reviews one of my favorite styles, the Berliner Weisse. Good review, if you can make it past the disturbing shirtless lederhosen lager pub reference…ahem, moving right along…
Jon over at The Brew Site muses about how pervasive das Reinheitsgebot is in brewing culture, and throws in a few German beer reviews for good measure.
Virgil at Vbg-log sits on the other side of the fence…he doesn't much care for the Reinheitsgebot. Luckily, his beloved Weizens, usually being ales, don't really fall under it's reaches. Just don't fruit the man's beer!
David from Musings Over a Pint brings the discussion back to the U.S. with a roll call of American craft beers which have been influenced by or brewed in the style of German beers. I am printing this list out and using it as a shopping list next time I hit the beer store!
Stephanie at brew.cook.pair.joy teamed up with Ray and Melissa (from Bathtub Brewery) last September for their very own Oktoberfest party. Nineteen different German beers made it to the party, along with some good-sounding German fare. I guess my invite got lost in the mail… :(
Speaking of Ray @ Bathtub Brewery, he weighs in with this Session's most philosophical post. Does tradition truly handicap the human race? Has clinging to the Reinheitsgebot prevented the Germans from taking their brewing to an even higher level? Agree or disagree, this is a great thought-provoking post.
Brad at La Petite Brasserie is a first-time Sessioner who also thinks the Reinheitsgebot is an outdated piece of government interference, but he can't argue with the results.
Matt of Hoosier Beer Geek talks about how he thinks the American craft beer world would not be what it is without the rich brewing history German immigrants brought here. He then eloquently describes the beautiful rauchbier – particularly Aecht Schlenkerla, one of my favorites.
The Beer Nut also appreciates a good rauchbier, and he writes about two I have not yet had the chance to sample – Schlenkerla Helles Lagerbier and Spezial Lager. The Beer Nut writes to us from Ireland, and his proximity to the promised land of European beer makes me jealous.
Another author from Ireland, Thom from the Black Cat Brewery, says German beer might not be his favorite, but the easy-drinking wheats did open his eyes to the world of good beer. Another victim of the seemingly innocent wheat beer!
YET another Irishman :) , Adeptus at The Bitten Bullet, found this to be the perfect topic for his very first Session post. Not only was he lucky enough to be introduced to good beer in Germany, but he is now actually residing in Germany within striking distance of both Köln and Düsseldorf!!! This is a great story of one man's journey through beer and life.
Speaking of beer journeys, Matt at A World of Brews tells us how his passion switched from wine to beer during a trip to Europe with his wife. I love it – a beer bar in Berlin opens his eyes to the complexity of beer three years ago, and now he writes a beer blog! Nice story.
Jason at BeerBloggers.com is another first-time Session poster, and another lost soul who was shown the good way by Germany and its addictive wheat beer! Nice post about a great social experience he had that seems to be a defining feature of the German beer culture.
Ted @ Barley Vine was lucky enough to live in Köln for a few months, and he writes a nice piece on the beer culture surrounding Kölsch. He makes an interesting point about how Americans separate their beer culture from the rest of their lives, where other cultures, like the Germans, integrate the two. He also includes a good review of an American Kölsch style beer.
That brings us to E.S. from Relentless Thirst, who gets in touch with his German roots by reviewing three Oktoberfest offerings from American breweries.
Mario @ Brewed for Thought teamed up with Peter from Better Beer Blog and conducted a Kölsch tasting. Find out how the authentic Kölsch Reissdorf matched up against some other American Kölsch style offerings.
Stephen over at thatstheSPIRIT writes a great piece on the dueling cities of Köln and Düsseldorf. He states that it is impossible to truly appreciate a Kölsch or altbier without trying them in situ – I've been fortunate enough to visit both cities, and I have to agree! The cities are the beer, the beers are the cities…it is beer culture to another level, and it is beautiful to behold.
How can we leave out the driving force behind The Session? Stan over at Appellation Beer pens an interesting post about the beer found in authentic German towns along the Romantischstraße – they may not all fit style guidelines, but the residents sure enjoy drinking them.
Finally, we have our host…who isn't done writing his post yet! I was so busy working on the roundup that I neglected my own response! I should have it finished real soon now! and will link to it here.
Well – looks like that's it! Thanks again to everyone who participated – it was great variety of takes on the topic and made for some really interesting reading (and watching!) I'll keep an eye out for any stragglers and will update this post as necessary.
Until next time – Prost!